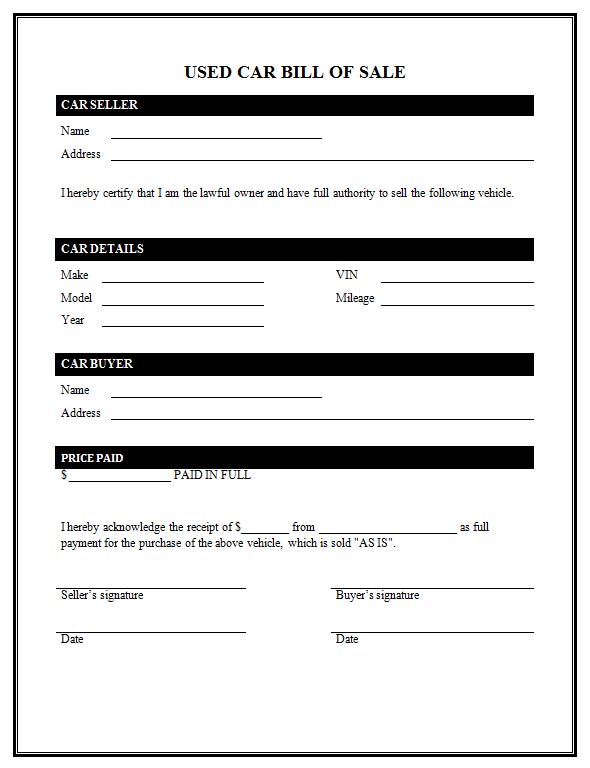 A used car bill of sale template is a legal document used to transfer ownership of a used car from the seller to the buyer. Like an ordinal bill of sale, a used car bill of sale contains the minimum required information to prove that a transfer of ownership of a used car has taken place legally.
Importance of a Bill of Sale for Used Car
The document is an affirmation that the sale was conducted in a way that was agreed upon by all parties involved. It is intended to prevent fraud that may be perpetrated by any of the parties, and minimize the possibility for having the vehicle seized illegally.
Normally the seller prepares the used car bill of sale. Both parties should retain a hard copy of a signed bill of sale for future references.
Components of a Used Car Bill of Sale Template
Whether you use a used car bill of sale template or draft one by your own, a bill of sale should contain at least the following information:
Seller, Buyer – The bill of sale must contain the name and address of both the buyer and seller for future reference, and to determine who to contact in case of breach or non-compliance to the stipulated terms.
Vehicle Information – The vehicle identification number (VIN), make, year, and mileage, must be also included. The buyer should check this information matched with one that mentioned on the registration and title of the car. The bill of sale must also state whether the mileage is accurate or not, and mention that the seller possesses full authority to transfer the ownership.
Warranty Exclusions – It must be clearly stated that there are no warranties implied as the car is sold on an AS IS basis. It means the seller is not liable for any damages or faults of the used car after the sale except there was some frauds involved such as wrong odometer reading.
Date of transfer and price – The date of transfer should appear in the first section of the document, next to the names of the seller and buyer.  The exact amount the vehicle was being sold for should also be written. Most states use this information to determine the amount of taxes due on the used car. Depending on the state, taxes may have to be paid prior to titling or registration.
Ownership Transfer – Title to the used car is required although the bill of sale already clearly states the transfer.  You can check your state's DMV for the exact requirements for full ownership transfer.
Download used car bill of sale template
The used car bill of sale template is available in our website for free. Just make sure that you fill out all necessary information to complete the sale.