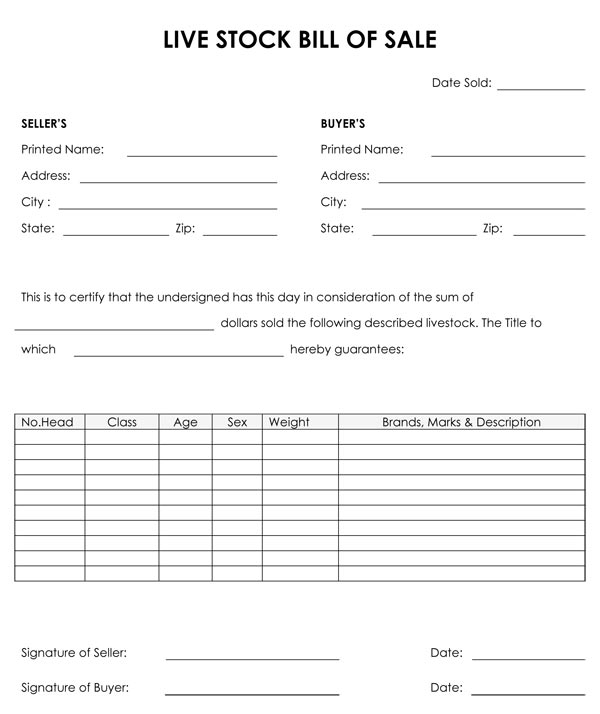 livestock bill of sale
is a legal document containing information about a livestock trade. It is a record of a transaction between the seller of any livestock and the buyer, wherein both agreed to their terms before sealing the deal. A livestock bill of sale serves as a proof of ownership for the goods involved.
Why both buyer and seller need a livestock bill of sale
The seller of livestock should issue a bill of sale at all times to protect both himself and the buyer. More than its significance in determining ownership, it makes both parties aware of the condition of the livestock before completing the transaction and that it is a guarantee that the livestock sold is free from any encumbrances. This makes disputes almost impossible to happen after the deal is sealed.
Important information on livestock bill of sale form
Because this is a legal document, it is important to examine its content before filling it up and having it notarized. The first thing to check is that all pertinent information should be provided such as:
Names of both the buyer and seller including both their addresses
Transaction date and location
The total number of livestock being involved for the said transaction
Detailed description of the livestock i.e. kind, color, sex, gross weight, net weight, brand, price, etc
Signatures of both parties which signify that both are aware of the particulars in the sale
Since it demands a detailed description, it is the responsibility of both traders to inspect all the livestock prior to any agreement. A thorough check of the goods will not hurt and will instead pave the way for a good trading experience.
Each state has its own set of rules regarding issuance of a livestock bill of sale. A careful inspection of the form is also necessary to ensure that it goes with the law that is specific to your state.
How to use livestock bill of sale template
To help both buyer and seller of livestock create livestock bill of sale quickly and easily, we give away the free livestock bill of sale template.
The template is in Microsoft Word document format so that it is simple to use. Just take a few seconds, download the zip file, extract it and create new livestock bill of sale.
The template provides you with predefined informational fields so you just have to fill out the necessary information. If you do not have Microsoft Word installed in your system, you can use the printable livestock bill of sale in PDF format. You need to print out the form and fill it out manually.