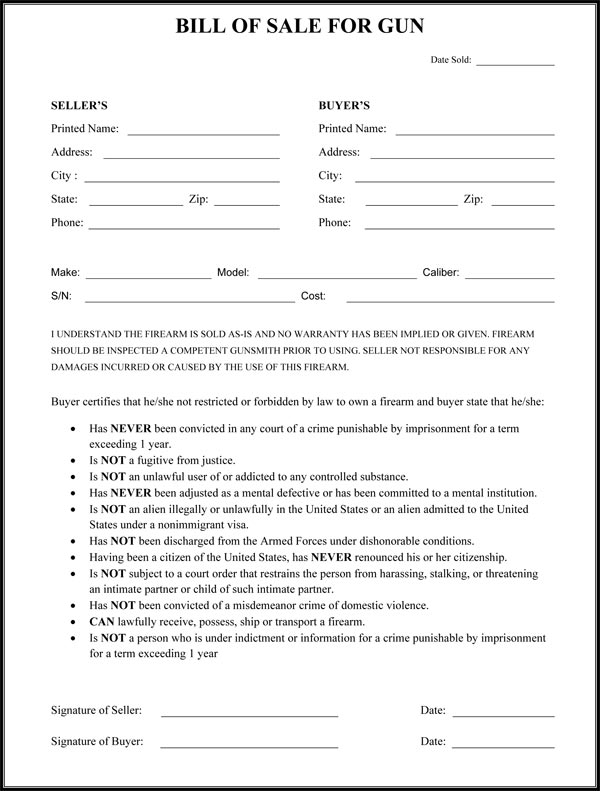 You may have heard of a gun bill of sale while in a gun shop or when witnessing a firearm transaction. The gun bill of sale is a legal document that the seller uses to transfer the gun to the buyer legally.  It contains the details of the seller, buyer and a witness present at a gun sale transaction. It, therefore, helps to improve the traceability of the gun by federal and state authorities.
This bill of sale document is markedly different from other bills of sale in that in there are mandatory fields within the document that you must fill out as per federal, state and county laws.
A gun bill of sale is very important for any person intending to purchase or sell a firearm. The most obvious and practical reason for its importance is to protect you from criminal suits that may involve a firearm you had earlier purchased or sold. The gun bill of sale would go a long way in absolving you from incrimination in cases where the firearm you had bought or sold had been used in criminal activities before or after it landed in your hands without your knowing.
A gun bill of sale would also help you to retrieve your firearm if indeed it were ever stolen or misplaced. You can use the gun bill of sale to claim it from state or federal bodies that may have kept it to prevent it from getting into the wrong hands.
There are several federal and state components required for a gun bill of sale. These components usually include the need for proper and precise specifications on the following aspects of the firearm; serial number, model and make, caliber, permit number of issuing state and county and the seller's permit carry number.
In case you involve a dealer in the gun transaction then the dealer is obliged to provide his/her name, address and the permit number he/she uses within the state.
It is the misuse of firearms by unscrupulous people and the grave consequences of such misuse that necessitate the need for a gun bill of sale. You should always ensure that you have a gun bill of sale to protect yourself and the integrity of your firearm when buying or selling a gun.
To help you prepare a gun bill of sale, we provide you with a free gun bill of sale template. This bill of sale for a gun is very simple to use that you can make your own bill of sale easily. If you ever need to modify the bill of sale to get it updated with the most recent state law, the template also allows you to do so. You will need Microsoft Word or other compatible software to edit the gun bill of sale form.