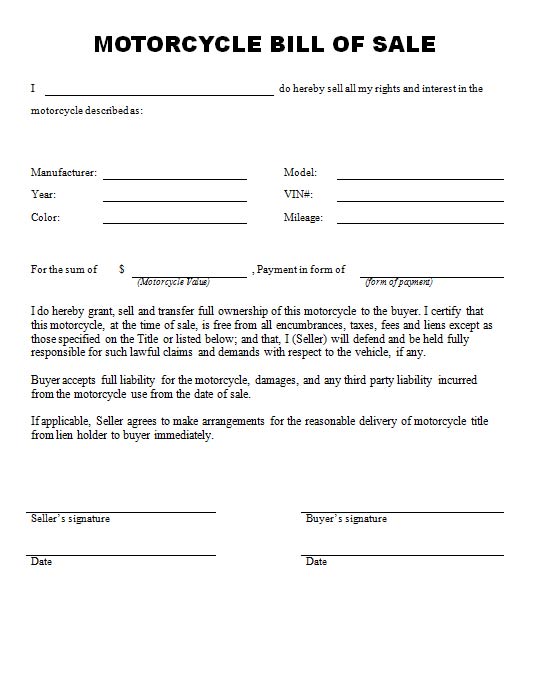 To help you speed up the sale transaction, we provide you with a free motorcycle bill of sale form that you can use to create your own motorcycle bill of sale.
A motorcycle bill of sale is a written agreement that motorcycle owner issued to the buyer to transfer legally his right or interest in his motorcycle to the buyer. In order to sell or buy a motorcycle, both buyer and seller have to complete a motorcycle bill of sale form.
Motorcycle Bill of Sale information
The free motorcycle bill of sale provides a framework where you just have to fill out necessary information:
First, you need to fill out the motorcycle details including manufacturer, year, make, model, vehicle identification number, color, and mileage.
Second, the most important information is the purchased price, form of payment and date sold.
Third, you have to provide the information about buyer and seller including name, address and signature.
Finally yet importantly is the statement from the seller to declare that the motorcycle being sold is clear from claims and liens whatsoever.
The motorcycle bill of sale helps protect buyer and seller against possible dispute in the future.
Download free motorcycle bill of sale template
Using our free motorcycle bill of sale is an excellent start to have a good motorcycle sale transaction. There is download link where you can download the file. You need to unzip the file before accessing the bill of sale.
We provide you with two forms of the motorcycle bill of sale. The first bill of sale form is Word template so  you need to have Microsoft Word to use this bill of sale.  Otherwise, you can use the printable motorcycle bill of sale in PDF format. You just need to load it into any PDF reader software that freely available such as Acrobat Reader and Foxit Reader.