The Best Free Motor Vehicle Bill of Sale Template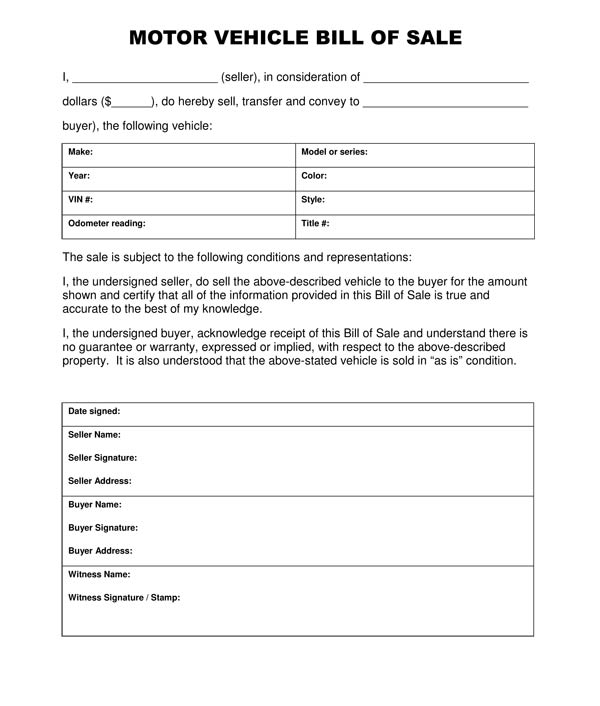 You can download a  free motor vehicle bill of sale template that helps you create your own bills of sale and boost your selling process when you need to sell your motors, new or used cars, trucks, SUV or any sort of vehicle.
Bill of sale is a generally accepted legal document prepared by the seller and readily given to the buyer during transaction of a specified property. It entails detailed information of the property, the seller, and buyer, in addition to other relevant information necessary to seal the transaction within legal frameworks. The general purchase value of the product can be exchanged monetarily or on agreed terms, all these is based on the presumption that the seller had legal possession of the property prior to purchase. It is part of the evidence of transfer after completion of the whole transaction process, more so the buyer is always protected in case of any unlawful acts on the side of the seller.
Get free motor vehicle Bill of sale template and make the work easier and save time that you have to spend on drafting this legal document; it contains full information that is required by the law. This makes it a better option that speeds up the transaction of automobiles and other vessels. The information contained therein include, purchasers names, phone number, address, city and the zip code. This is replicated on the side of the seller who has to give his full names and phone number, address city, and zip. The template also contains the year of manufacture, the make and model of the vehicle, in addition to the vehicle identification numbers and odometer reading.
The free motor vehicle bill of sale template is an integral part of the transaction. This is reason why the template includes the date of sale and the specific price. It provides place for acknowledgement by both parties affirming and validating the whole business deal by signing it. This is an advantage basing on Acts that govern acquisition of property, as taxes levied and tax exemptions are quickly processed when you have a bill of sale with you.