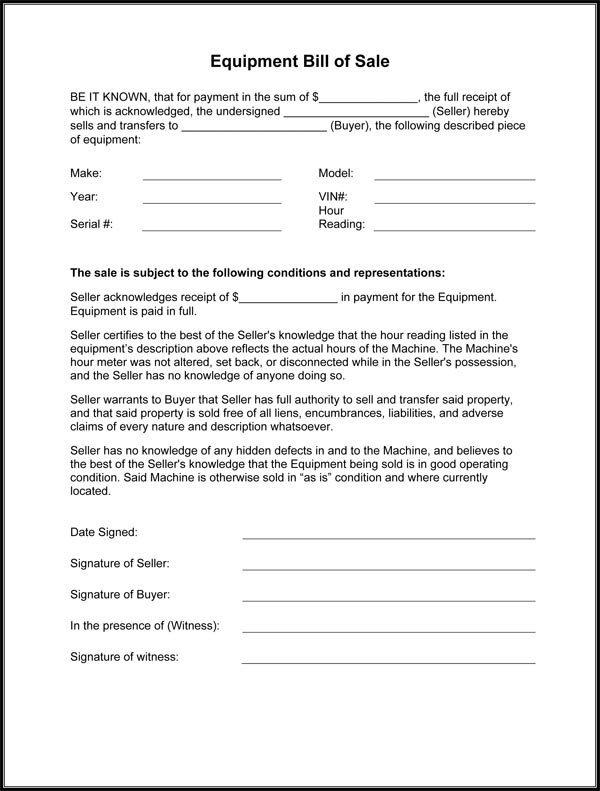 Equipment bill of sale
An equipment bill of sale form is a document that facilitates the transfer of ownership of an equipment or machinery from a seller to a buyer. It is legal document to reflect instant change of ownership and as a sales receipt of the equipment. Terms and conditions of the sale are defined based on the input of the seller and the buyer to ensure both parties entered into an agreement of the equipment sale with clear understanding of the various circumstances.
Equipment Bill of Sale Form particulars
The seller is responsible for providing detailed information of the equipment for sale. The key information is, but not limited to, the model and make of the equipment, description of the as is where is condition, serial number, registration number and other information which allows the buyer to carry out due diligence check such as liens and encumbrances on the equipment. The sales price inclusive of taxes should be stated prominently. If there are any components which come along with the equipment, itemized prices of the components must be provided. The goal is to ensure that the buyer accepts the sale with clear understanding and agreement to the various existing conditions of the equipment.
The buyer is responsible for supplying the seller accurate information of the new owner's full name, company registration and address to facilitate transfer of ownership of the equipment. The buyer is required to understand and accept the terms and conditions presented in the equipment bill of sale before signing off the bill. The equipment bill of sale is a binding legal document between the seller and buyer, which finalized the transfer of ownership at a agreed purchased price.
The equipment bill of sale form provides particular sections for both the buyer and seller to supply complete signatures and date of the transaction. Additional room may be required for notarized stamps by the state.
How to use equipment bill of sale
We provide you with free equipment bill of sale template so that you can create your own bill of sale for equipment fast and easily.  To use this bill of sale for equipment, you just need to download, extract the zip file and create new document from the template. You need to have Microsoft Office to fill out the essential information and print out the equipment bill of sale.