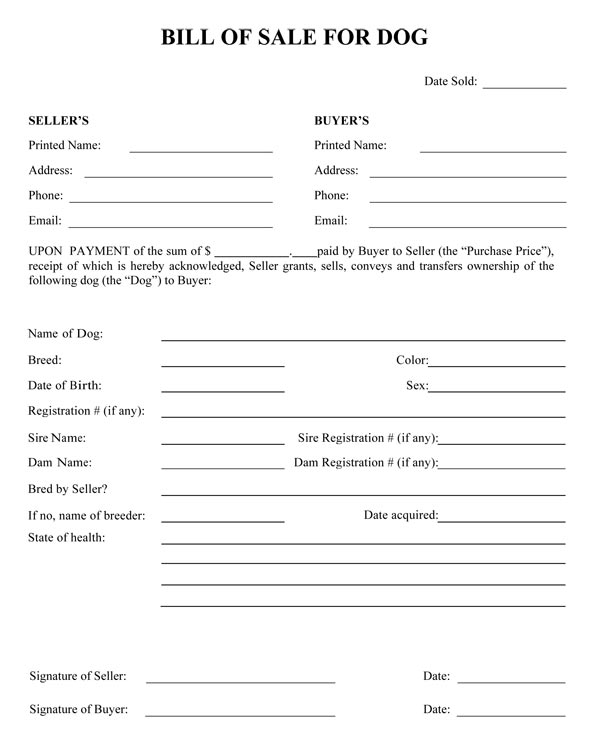 Whether you are selling or buying a dog, we highly recommend that you use our dog bill of sale template to help complete paperwork of the sale easily and fast. If you do not know what a bill of sale for dog or puppy is, please read the article. If you are already familiar with this bill of sale, you can download it now and use it immediately free.
A dog bill of sale is a legal written agreement for selling or buying a dog or puppy. The bill of sale is a very important to both the buyer and the seller. It contains the terms and condition of the transaction. The details of the buyer and the seller and useful information about the subject matter i.e. the dog that is being offered for sale.
The bill of sale acts as evidence that the transaction has taken place. It helps clarify expectations from the buyer and seller and minimize conflict between the two parties. The dog bill of sale clarifies ownership of the dog, protects the rights of both parties. It also helps both buyer and seller to keep a complete life history of the dog. In addition, the bill of sale provides great help in case of dispute or misunderstanding, as it will serve as a legal document of reference.
The dog bill of sale contains general details of the buyer and seller, their addresses, i.e. phone, their full names; email addresses, the place where the sale is taking place, signatures of the parties and that of the witness in the case of any. In addition, the dog bill of sale describes the dog in details i.e. its name, color, breed, sex, date of birth, registration details in case any, the details its mother and father. It may also contain details of its health history such as whether the dog has been vaccinated and the vaccination schedule.
The bill of sale clarifies that the seller is legal owner and has the right to transfer the dog to a buyer. It also states the exact amount of money to be paid whether in full or installments as consideration for the exchange of the dog.
More important, the dog bill of sale states the warranties for the dog, like its current health status, the kind of training it has received in case of any, it is sold free of any encumbrances, charges, mortgage, lien, etc, and the dog is sold as it is, whether it is a pure breed.
Feel free to download the dog bill of sale to make your own great looking bill of sale free.