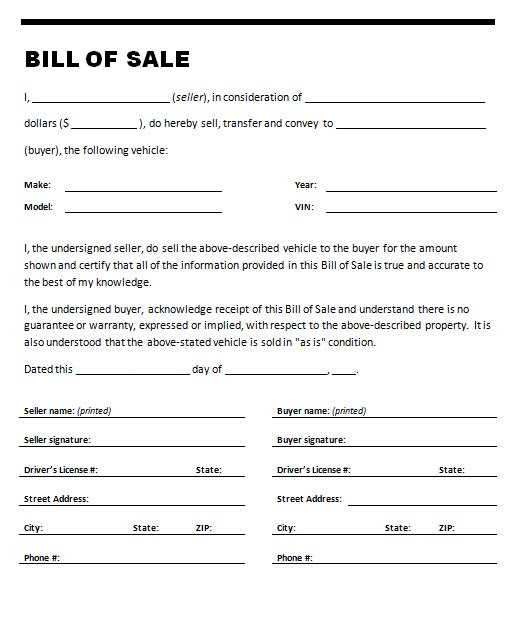 If you are selling or buying a car, you absolutely need a car bill of sale template. To help you speed up the selling process, we provide you with a car bill of sale template that you can use to complete the transaction.
A car bill of sale is a written document used in selling or buying a car that the car's owner transfer the ownership of the car to the buyer. The car bill of sale hence protects both buyer and seller from future disputes.
Buyer also use the car bill of sale as a proof of ownership to register the car at local DMV and apply for an auto insurance plan.
Car bill of sale template details
A car bill of sale must contain necessary information about car being sold together with buyer and seller's information. The following information should declare clearly in the bill of sale:
Complete detailed information about the car such as year, make, model, description, odometer reading, and vehicle identification number (VIN). This information can be found in the certificate of title.
Date when the car was sold.
Purchase price paid in full.
Buyer and seller's details such as name, address, and signatures.
Notice that the term AS IS is very important to buyer and seller. It means the car is sold AS IS and the seller is not liable for the car after the sale. It protects seller from any damages or faults of the car after the sales transaction. As the buyer, you should check the car carefully before accepting this term.
Distribute car bill of sale copies
Both buyer and seller must sign the bill of sale documents to complete the sale legally. Both copies of the bill of sale should contain the same information.
Using our car bill of sale template is simple. You just need to download and extract the file before opening it in Microsoft Word. You can fill out the car, buyer and seller information, print two copies of the bill and signing both of them.
In case you don't have Microsoft Word, you can use the car bill of sale template PDF version. Just print it and fill out the necessary information.