Boat Trailer Bill Of Sale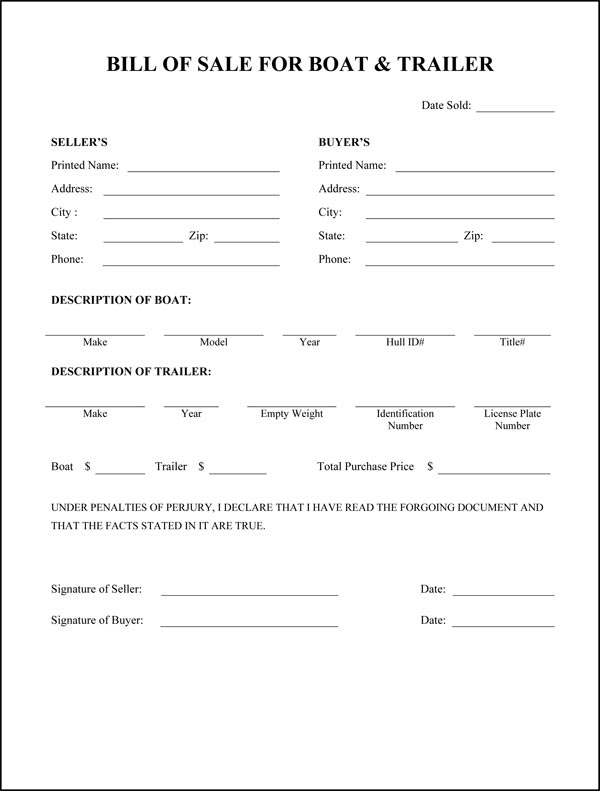 If you are buying or selling a boat trailer, you will undoubtedly need a boat trailer bill of sale. Generally, the bill of sale is written up by the seller and given to the buyer as a receipt. This legal document shows transfer of ownership. This is proof a buyer will definitely need to register the boat trailer in their name and to get it insured. This document will also make the transition easier if the buyer wants to sell the trailer at some later point.
The bill of sale is important to the seller as well. It provides evidence that the vendor is not legally responsible for the trailer in any way. This is especially important if the buyer doesn't register the trailer and gets into an accident or leaves it stranded. Also, if the boat trailer is going to be paid for installments, the bill of sale will spell out the terms and enable the seller to repossess the vehicle for nonpayment.
Important items to put into the bill of sale are names and contact information of both buyer and seller, conditions for payment arrangements (if any), and details about the boat trailer. The details of the boat trailer should include the VIN, make, model, year built, model, body style, dimensions, and the GVWR (Gross Vehicle Weight Rating). This document should be signed and dated by the buyer and seller, as well as a witness, on the day that the trailer is sold.
Keep in mind that some states may require a title to register the boat trailer. It is the responsibility of the seller to provide this to the buyer if it is needed, but it is important that you call the DMV just to make sure. Either way, a boat trailer bill of sale will prove beneficial to both parties involved and will help avoid any confusion when it comes to the sale.