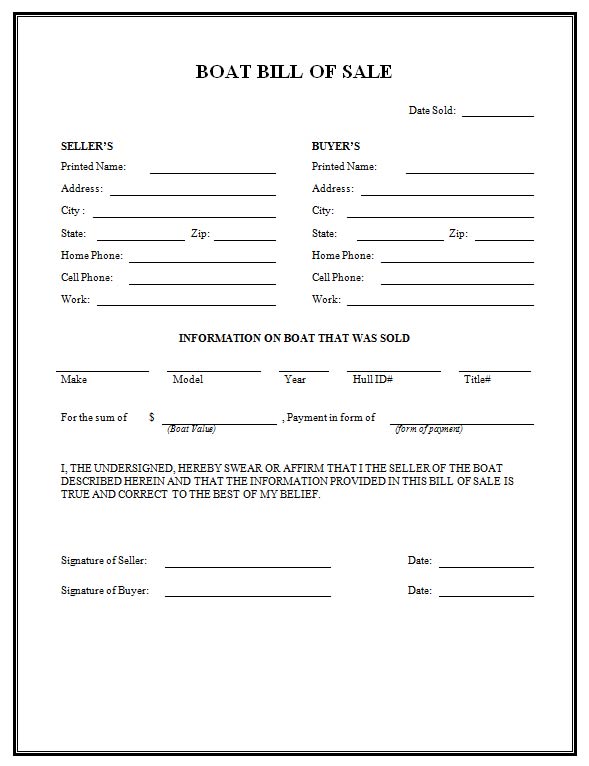 The boat bill of sale is a legal document used by the seller to transfer the boat to the buyer. You can draft the bill of sale or better to use a template to speed up the process and avoid missing any important information.
Notice that if you sell both a boat and a trailer, you should use the boat and trailer bill of sale instead.
The boat bill of sale features sections for buyer and seller information including name and address.  It also include the following important information about the boat:
All of this information can be found in the boat registration certificate. As the buyer, you should check whether this information matches with the one mentioned boat registration certificate.
In addition, the boat bill of sale should contain the price of the boat in full. The buyer can use this information to buy insurance for the boat.
Both seller and buyer should keep a copy of the boat bill of sale with signatures at the bottom section of the bill.
How to use boat bill of sale
To use the boat bill of sale, you need to do the following steps:
First, you need to download the file below. The download file is in the zip format so you have to extract it before accessing the bill of sale form. You can use any zip software to extract the file.
Second, fill out necessary information about boat, buyer and seller with signatures, and the date of transfer.
Print two copies of the bill of sale. Both buyer and seller should keep one copy.